Nation's automakers are seeing 'green'
2009. 27 October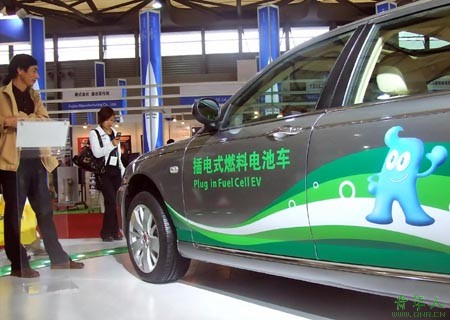 Visitors look at an electric car at a recent industrial expo in Shanghai. More Chinese car manufacturers are developing energy-saving models.[Asianewsphoto]  

(qnr.cn) The rush to produce more energy-efficient automobiles is fueling aggressive efforts by China's automotive sector.

  "The fuel-efficient and new energy vehicles should account for 10 percent of the total industry in 2012," Science and Technology Minister Wang Gang said recently in Beijing.

  That expectation is twice the 5 percent share that the Chinese government called for in its automobile industry restructuring and revitalization plan announced in January.
  With China's vehicle output expected to surpass 10 million units this year, domestic automakers are eager to produce green vehicles that also will allow them to better compete with global rivals in the industry.

  But industry and government analysts are voicing concerns about whether the rush to manufacture more new energy vehicles will translate to comparable sales to consumers.

  According to statistics, more than 30 Chinese automakers in recent years have invested in research and development of cars fueled by alternative energy or electricity.
  Shanghai Automotive Industry Corporation Group (SAIC), China's largest automaker, in July announced plans to invest 12 billion yuan in research and development of hybrid engines. SAIC plans to begin manufacturing its own brand of fuel-saving cars in 2010, the company said.

  According to SAIC, the first model will be a hybrid Roewe 750, which consumes 20 percent less gasoline.
  Altogether, the company will invest in 41 major projects, including hybrid and electric cars.
  Dongfeng Motor Group, China's third-largest automotive company, will cooperate with the Dutch electric car startup Detroit Electric to research, develop and sell electric vehicles in China
  Chongqing Chang'an Automobile Group recently announced that it is creating a new manufacturing base with an investment of 2.5 billion yuan for alternative energy vehicles.

  The new manufacturing base will help Chang'an Motors produce 300,000 alternative energy cars and 1 million engines per year after manufacturing begins in 2012, according to the company.
 
 New hybrids
  Geely, a Zhejiang-based privately owned company, began a five-year new energy program, and plans to develop five hybrid sedan models. Geely's goal is to sell 10,000 hybrid cars by 2010.

  Geely also announced plans to release its first electric car, the Geely Panda, within the next year.
  BYD Co, China's privately owned battery and automobile maker, has established a manufacturing base with a capacity of 400,000 units in Changsha, Hunan province, to focus on electric vehicles. BYD acquired bus maker Hunan Midea Coach in July.

  Some regional governments in areas where automobiles are major industries also have recently announced plans to help make China a new energy car hub.
  The Beijing municipal government plans to have 10,000 alternative energy vehicles produced and sold by Beijing Automotive Industry Corporation (BAIC) in 2010.
  Shanghai expects to have a capacity of 10,000 green vehicles in 2010 and ten times that number in 2012.

  The mainland's financial hub hopes to have 300,000 new energy vehicles by 2015 and become a leading city in the clean automobile industry.

  Guangzhou - a city where Japanese automakers Toyota, Honda and Nissan have manufacturing bases - plans to produce 800,000 green vehicles by 2020.
  Altogether, the goals of automakers and cities would well exceed China's target of 1 million green cars by 2012.

  Overheating concerns

  However, some government and industry officials have recently warned against the possibility of an overheated market.
  Xin Guobin is chief of the industry policy department under the National Development and Reform Commission, the nation's economic planning agency, recently said that the rush to produce green cars has raised the risk of redundant projects and potential overcapacity.
  Chen Bin, director of the commission's Department of Industry, said China has too many enterprises involved in green vehicle development.
  "Many companies simply do not have the research and development capabilities," Chen said at a recent auto industry forum.

  Some that cannot master core technologies have to outsource key components for assembly, he added.
  "This kind of auto manufacturing should be curbed, as it's not conducive to healthy development of the automobile industry," Chen said.

  Some analysts are concerned whether there will be a market for 1 million green vehicles that tend to cost more than traditional vehicles.

  Consulting firm PricewaterhouseCoopers recently reported that even in Europe, which has been a leader in green energy development, electric, hybrid and other alternative energy cars only account for 10 percent to 15 percent of the total automobile market. The report cited inconvenience and higher prices as a reason for lower acceptance in the marketplace.
  According to statistics from the National Passenger Car Information Exchange Association, Japan's Toyota last year sold only 899 units of its hybrid Prius - currently the world's best-selling new energy car.

  Since the model entered China market in 2006, total sales had only reached 3,500 units by the end of 2008.
 
 BYD's F3DM, the first mass-produced plug-in hybrid to hit the international market last December, has reported stagnant sales due to recharging problems.
Source:
www.qnr.cn