Chinese and U.S. Tourism Leaders Meet at Orlando Summit
2009. 27 October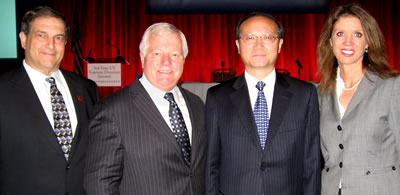 (hospitality-1st.com/) U.S. and Chinese tourism officials met last week (October 23-24) for the third time in two years to explore opportunities for growing travel between the United States and China. Tourism officials from 30 Chinese provinces and 23 U.S. states were in attendance at the two-day summit, including Chairman of the China National Tourism Administration Shao Qiwei and U.S. Travel Association President and CEO Roger Dow.
During the summit, leading tourism officials from both countries signed a Memorandum of Understanding as part of an ongoing initiative to build strategic cooperation in tourism. The first summit, held in October 2007, served as the catalyst for the first official Chinese tour group visit to the United States the following June. Representatives of the two countries' travel industries also discussed current issues in the travel sector that affect both countries, from the H1N1 flu to the Shanghai World Expo 2010, and examined travel trends in the U.S.-China market.
"These summits help to nurture the developing tourism trade between our two countries," said Roger Dow, president and CEO of the U.S. Travel Association. "We know that tourism not only stimulates the economy but also encourages cultural understanding and widens global perspectives. We are glad to encourage this relationship and continue to welcome more Chinese travelers to the United States."
China added the United States as an approved destination in December 2007 and recently expanded international marketing for Chinese group leisure travel from six provinces to 21, more than tripling access to the United States by its citizens and opening up an entirely new travel market with the potential for millions of new visitors to experience America. China currently has a middle class of more than 300 million people that are able to travel to the United States, and it is the fastest growing outbound travel market in the world.
Nearly 500,000 citizens of Mainland China traveled to the United States in 2008. China is the only inbound travel market projected to see double-digit, year-over-year growth in inbound tourism over the next four years. Visitors from China tend to come frequently and spend an average of 23 nights when they travel to the United States. They are also the highest spending of any other inbound international group, averaging $7,200 per person, per trip.
The summit was arranged by the U.S. Travel Association in conjunction with the China National Tourism Administration (CNTA). The National Council of State Tourism Directors, an industry council housed within and administrated by the U.S. Travel Association, also participated in the summit.
The U.S. Travel Association is the national, non-profit organization representing all components of the $770 billion travel industry. U.S. Travel's mission is to promote and facilitate increased travel to and within the United States. For more information, visit www.ustravel.org.

Media Contact:
U.S. Travel Association
Cathy Keefe
Manager, Media Communications
202-408-2183
| Source: hospitality-1st.com