Chinese vice premier meets Australia's Queensland premier
2009. 31 October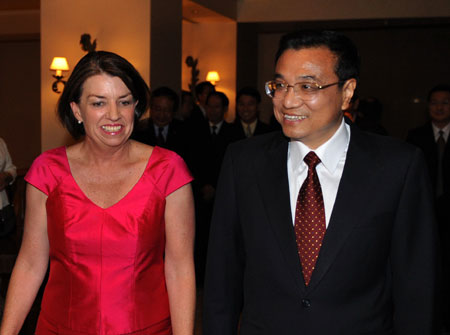 Chinese Vice Premier Li Keqiang (R) meets with Premier of Australia's State of Queensland Anna Bligh in Brisbane Oct. 31, 2009. (Xinhua/Liu Jiansheng)Photo
(news.xinhuanet.com) Chinese Vice Premier Li Keqiang said here Saturday that China and Australia can lift their bilateral relationship to a new level through a strengthened dialogue and increased cooperation between the two trading partners.
    Li spoke during a meeting with Anna Bligh, the premier of Australia's state of Queensland.
    The vice premier said that during his visit to Australia a consensus was reached to enhance the Chinese-Australian friendship, to deepen mutual beneficial cooperation, and to respect and care for each other's core interests and important concerns.
    He also said the two sides released a joint declaration and signed a number of cooperation agreements.
    Meanwhile, China has attached great importance to friendly cooperation with the state of Queensland, said Li, adding that exchanges and cooperation between the two sides have developed rapidly in recent years.
    China, Li said, is willing to work with Queensland to push bilateral exchanges and cooperation to a higher level in a variety of sectors, including investments, agriculture, mining, clean energy, environmental protection and technology.
    Meanwhile, Bligh said Queensland has established a long-term and fruitful relationship with China and noted that this year marks the 20th anniversary of the establishment of the state's sister-city relations with China's Shanghai City.
    All circles in Queensland support development of the Australia-China friendly and cooperative relationship, Bligh said.
    Queensland, she said, stands ready to promote cooperation with China in such fields as trade, technology, education, science and research, culture and tourism.
Source:
news.xinhuanet.com