Paet: Chinese Expo Is a Chance for Estonia
2009. 2 November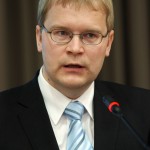 Urmas Paet:"We would like to use this opportunity to introduce Estonia as best we can"

by Giovanni Angioni
(estonianfreepress.com) Today Foreign Minister Urmas Paet met with Chinese Vice Foreign Minister Zhang Zhijun. At the meeting they discussed Estonia-China economic relations, includes matters related to the EXPO in Shanghai in 2010, and co-operation between the nations in the areas of education and culture.
While talking to Chinese Vice Foreign Minister Zhijun about the world exposition taking place at the 2010 Shanghai EXPO, Foreign Minister Paet said that Estonia was preparing thoroughly for the event. "
, as we would like to intensify ties with China and other nations and businesses working in Asia," said Paet. "Estonia is also planning many cultural events in Shanghai in co-operation with its partners in China. For example, we would like to introduce a collection of Estonian fairy tales translated from Estonian into Chinese," he added.
Foreign Minister Paet stated that Estonia would still like to strengthen economic and trade relations with China. "We are planning a meeting of the Estonia-China Joint Economic Commission at the beginning of next year in Tallinn to discuss future co-operation," said Paet.
Foreign Minister Paet stated that educational co-operation between Estonia and China is also developing successfully. "Over 100 young Chinese people are studying in Estonian institutions of higher learning, and we hope that the number of Estonian students gaining a Chinese education will also increase little by little," said Paet. "Signing an agreement for the reciprocal recognition of higher education diplomas and qualifications would help to increase educational and research co-operation," Paet added
Source:
www.estonianfreepress.com