Say hi to Shanghai!
2009. 15 November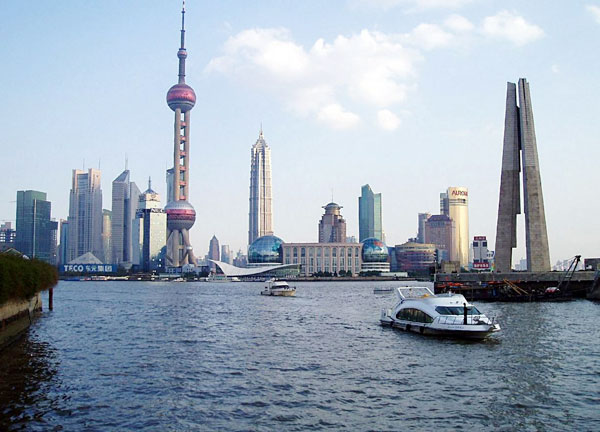 by Ching M. Alano
(philstar.com) Going for a Shanghai-bernation?
Or care for a Shanghideaway? Ho, make it Shanghai as it hosts the much-anticipated Expo 2010 from May 1 to Oct. 31, 2010, with all eyes on and all roads literally leading to this Paris or New York of the East.
Spirits are high in Shanghai and everywhere in China, which is hosting the World Expo for the first time (the first time for a developing country for that matter) on a very down-to-earth theme "Better City, Better Life" (you better believe it).
"In China, the countdown has already started," says a visibly excited Connie Cheng, vice chairman of the Shanghai Municipal Tourism Administration. "Already, 242 international organizations and individual countries have registered. It means a lot to a country like China to finally get the chance to host this kind of event, to have this great opportunity to showcase what China/Shanghai can offer to the world during the 184 days of Expo 2010. People from every corner of the world will come and see the most advanced technology and acquire knowledge not only of China but of the world as well. We want to tell people that Shanghai is not only a shopping destination, but that it is also a place for leisure, for a wide diversity of food, for nightlife, for arts and culture."
But of course, Shanghai is more than just the biggest shopping mall in mainland China, housing more than 1,000 international brands. Be still, my shopping-loving heart! Shanghai is also about art galleries and museums (such as the only Madame Tussauds Wax Museum where you can wax ecstatic as you interact with the wax figures of famous celebrities). It's also about urban exhibition halls that display the past, present, and future of Shanghai's urban planning and architecture. Yes, in Shanghai, you can have your fill of art and history. And you can also satisfy your cravings for food, glorious food in Shanghai's assorted fine restaurants — think deep-fried river shrimps, sweet and sour ribs, smoked duck, whole roasted suckling pig, baked pork in foil paper, herb tossed with bean curd, cold dish of 18 flavors, braised tofu with crab roe, fried spareribs with mashed pine nuts, salt roast fresh mandarin fish, Eight-treasure rice cake, crab meat pastry. Are you hungry yet?
Delegates from the China National Tourism Administration, Shanghai Municipal Tourism Administration, Zhejiang Provincial Tourism Bureau, and Jiangsu Provincial Tourism Bureau were in town recently to hold a presentation entitled "China Story: Visit Expo 2010 Shanghai & China" to promote Expo 2010. "This is the first time for these two provinces (Zhejiang and Jiangsu) to organize a road show," Connie tells us. "We're a party of 40 people, it's a very big delegation. We went only to Malaysia, Singapore, and the Philippines, those three countries we consider as the most important in-bound markets with great potential. We're quite confident of what we can offer to the people coming from these three countries, which is why we organized a very important road show."
The gregarious Connie shares that she has lots of good friends from our Department of Tourism. "The Filipinos have done a good job in China to attract as many Chinese to come and visit the Philippines. We've been working very closely with each other."
She adds, "Undersecretary Phineas Alburo was in Shanghai and when he saw me here, the first sentence he said to me was, 'Finally, you came!' This harmonious relationship between our two countries is quite important. We're quite confident of the future between our two countries."
Meanwhile, now rising in Shanghai is the behemoth state-of-the-art Expo Site amid a 5.28-square-kilometer sprawl of steel, concrete, glass, and greenery (much bigger than the World Expo's Zaragoza venue last year). Big in a lot of ways, Expo 2010 is expected to draw 70 million visitors, including 3.5 million from overseas.
Already under way is the construction of permanent buildings like the Expo Axis, China Pavilion, Theme Pavilion, Expo Center, and Expo Performance Center, which will be finished by the end of the year.
Added attractions at Expo 2010 are two festivals and four games: Shanghai Tourism Festival, Shanghai International Arts Festival, F1 Grand Prix, Shanghai International Marathon, Shanghai Golden Grand Prix, and Shanghai ATP Masters 1000.
For the first time, Shanghai is issuing a pre-paid card and credit card to specifically cater to the needs of domestic and foreign visitors. Holders of the Shanghai City Tour Card will also enjoy discounts when they make payments at tourist spots, hotels, catering and entertainment facilities, shopping malls, even artistic performances or sporting events.
Tickets (individual and group) to Expo 2010 are already being sold. "If you're planning to visit China, this is the best time to come," says Connie. "You should book now for the expo. Through travel agents, you can buy expo tickets, they only cost over US$10-15, not expensive!"
To provide its visitors with only the best China can offer, 30 special Expo Tour routes have been selected. They fall under 11 categories which include post-quake Sichuan tour, exhibition prize tour, cruise tour, ancient town tour, folk culture tour, sports culture tour, cuisine and shopping tour, history and architecture tour, students' tour, pastoral tour, and urban culture tour.
Surely, you'll get a different kind of high in Shanghai.
Source:
www.philstar.com