Dry clothes in the open, it's green
2009. 9 May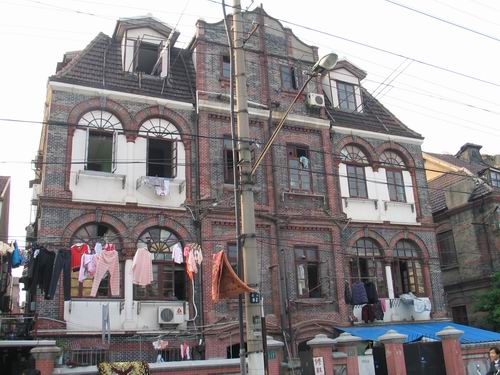 (china.org.cn) Today, we are so dependant on electric appliances that drying our washed clothes in the sun is probably the greenest thing we do.
The traditional practice of hanging our clothes out in the sun to dry makes the 1.3 billion people of this country the largest community of clean solar energy users in the world.
But in Shanghai, China's largest metropolis, drying your clothes in the open is deemed archaic. Officials here are obsessed with an image of modernity - the glitzy skyline, the Maglev. Of course, clothes hung in your balcony, or in your neighborhood garden is no modern invention.
The habit is described as "uncivilized behavior - a taint on the image of the city".
They frown on the practice so much that the authorities insisted the makers of the Tom Cruise-starrer Mission Impossible III chop off scenes of Shanghai where clothes hung from windows to dry are visible. That was three years ago.
Drying clothes on ropes and bamboo pipes in narrow alleys may be a scene reminiscent of Shanghai life, but is now disliked. After all, the authorities want to "clean up" the city ahead of the Shanghai World Expo in 2010.
What they don't realize is, what they think is an eyesore - clothes hanging to dry in the open - actually reflects the expo's spirit of hosting a green event, featuring clean technologies, electric cars for transport and recycling on site.
The city of 20 million is trying desperately to avoid using electric clothes dryers, which are widely believed to be the second biggest electricity-consuming appliance after refrigerators. And the authorities are trying their best to make them purchase one.
For a nation of 1.3 billion people, the amount of energy conserved, using natural energy to dry clothes, must be astonishing.
The environmental benefits would be even more significant since each electric clothes dryer, which tumbles clothes through heated air to remove moisture, will discharge half a ton of greenhouse gas a year, if used three times a week.
So, instead of feeling embarrassed seeing clothes hanging from buildings, on streets and other public areas, Shanghai should feel proud of its green tradition, and show it off with pride to some 70 million people expected to visit the city during the expo.
Instead of deeming it "uncivilized behavior", Shanghai should vigorously encourage its residents to stick to the environment-friendly tradition.
It should install more hangers to dry clothes in old neighborhoods, so people don't have to hang clothes on lines attached to electric poles or trees.
Drying clothes outdoors does not make Shanghai lose any face. The green tradition is simply as charming as those electric cars, which will cruise the expo site.
What would be truly shameful is when 20 million Shanghainese, or 1.3 billion Chinese, all switch to electric clothes dryers.
The excessive appliances used in our daily lives and the nation's gigantic manufacturing industry, which consumes much more energy per unit GDP compared with other countries, are making us lose face.
If Shanghai cares about its image, it should focus on the numerous real uncivilized manners, such as crazy driving, spitting on streets, pushing and cutting in lines or coughing without covering their mouths in public places...
Let's air our laundry in the sun as much as possible this summer. It helps the environment, costs nothing and leaves a good smell on our clothes.
Source:
www.china.org.cn