Indian TV Week on ICS (Nov. 23- 27)
2009. 20 November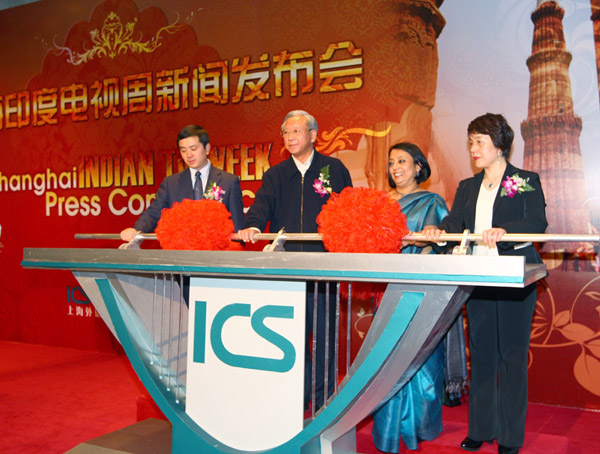 The press conference for Shanghai Indian TV Week on November 20th.

(english.eastday.com) To enhance mutual understanding between the Chinese and Indian people, ICS will celebrate Indian TV Week from the 23rd to the 27th of November. Accordingly, India's ZEE Trends will hold Shanghai TV Week from the 21st to the 25th of December, this being another grand event of Sino-Indian culture exchange.
One of the major media groups in India, ZEE comprises 17 TV channels that reach over 30 countries. SMG has long enjoyed a good relationship with ZEE, and has successfully held the "Shanghai-Mumbai Handshake" in cooperation with Shanghai Municipal Government. At that event, Shanghai TV Week played a significant role.
To introduce the abundance in Indian natural resources and cultural heritage, five 30-minute documentaries have been chosen for Shanghai Indian TV Week from 23rd to 27th of November at 8pm on ICS. Meanwhile, City Beat, Culture Matters, Getaway and Techmax produced by ICS will be selected during Shanghai TV Week.
International TV Weeks held in various cities open windows for the world on Shanghai Media. Expo 2010 in Shanghai will be a major trade and cultural event, and ICS will take the occasion of Expo and TV Week to convey the achievements of this metropolis to the Indian people.
A Brief Outline of the five Indian documentaries:
1. Back to Nature (Nov 23rd, 8:00-8:30pm) shows how natural therapy provides healing with spiritual advice and traditional cures. Embracing fresh air, sunlight, and wholesome food, patients can avoid harmful pharmaceuticals and enjoy a more balanced life far from crowded cities.
2. Earth Charmers (Nov 24th, 8:00-8:30pm) illustrates the achievements in eco-agriculture. Villagers here comply with the 29 rules such as using sap as an adhesive and aerating the soil with earthworms. By following traditional cultivation methods, this venerable civilization still reaps the benefits of living in harmony with nature.
3. Sound of Silence (Nov 25th, 8:00-8:30pm) guides you through a 10-Day meditation retreat composed of simple observation, individual, and group meditation, and a master consultation. The course is designed to enable people to face life in a calm and tranquil manner. In interviews, meditation masters and practitioners further explain the benefits of this ancient discipline.
4. Tribal Wisdom (Nov 26th, 8:00-8:30pm) takes you to a remote Indian village where inhabitants follow a strict eco-friendly lifestyle. Without modern technology, they try to make full use of nature's bounty, demonstrating a healthy and sustainable existence.
5. Green Mantra (Nov 27th, 8:00-8:30pm) show how waste and even litter can be turned into beautiful objects. One of the young artists, an economics major, turned office waste paper into jewelry and clothing. For another man, broken glass and metal fragments are all source material for graceful works of art. As they put it: "We are not lacking in beauty, but the search for it."
Source: english.eastday.com