Demons, Lions in China clash
2009. 21 November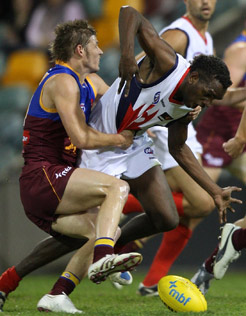 Melbourne and the Brisbane Lions will meet in Shanghai next October

(afl.com.au) The AFL has announced it will play its first ever match in China in October 2010.

The exhibition match between Melbourne and the Brisbane Lions will be played at the Jiangwan Sports Centre in Shanghai on October 17 next year.
AFL general manager national and international development, David Matthews, attended an official signing ceremony with representatives from the Yangpu Government at the KIC Resource Center in Shanghai.

Matthews said the match, which followed a visit to Shanghai in June by AFL legend and recently appointed coach of Team GWS Kevin Sheedy, was a wonderful opportunity to showcase Australian football.

"We are extremely excited to be able to bring Australia's indigenous game and all its unique skills to Shanghai as we continue to develop the code internationally," he said.

The stadium at the Jiangwan Sports Centre in Yangpu District has a capacity of up to 30,000 spectators and it's hoped two local university teams will participate in a curtain raiser to the match.

The game will coincide with the city's six-month World Expo, at which Australia will have a significant presence.

Melbourne CEO Cameron Schwab said the game was an outstanding opportunity to further develop relationships it formed during a visit to China in 2008.

"To be part of an event like this, which showcases our club and the game on the world stage, is very special. We also see this trip as an amazing cultural experience to benefit both our players and staff," he said.

The chief executive of the Brisbane Lions, Michael Bowers, said the club was thrilled to be part of a landmark event next year.

 "The AFL exhibition match is a wonderful opportunity to develop and promote our code to a massive international market."

Melbourne and the Brisbane Lions will play for the Kaspersky AFL Cup, named after software protection company Kaspersky, one of Melbourne's major sponsors.

Kaspersky Asia Pacific managing director Harry Cheung said his company was committed to ensuring the Kaspersky AFL Cup showcased both Australian and Chinese culture.

"We're proud of our association with Melbourne Football Club and we are delighted to extend our partnership with Australian football, particularly in a global event such as this," he said.
Exclusive to AFL BigPond Network
Source:
www.afl.com.au