City tunnels open to ease traffic snarls
2009. 21 November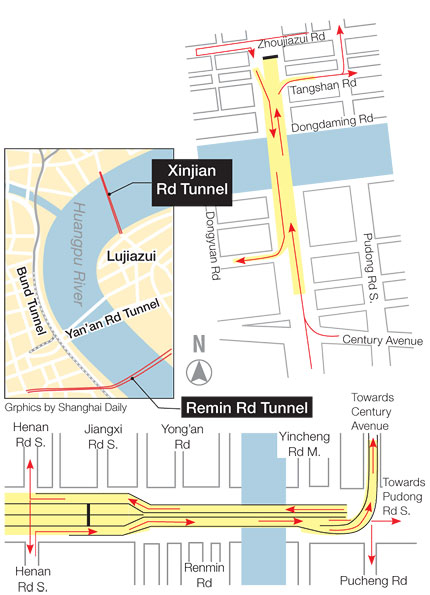 by Zha Minjie
(shanghaidaily.com) Two new vehicle tunnels across the Huangpu River were both partly opened to traffic by last night in a bid to alleviate congestion along the banks in both Pudong and Puxi.

Xinjian Road and Renmin Road tunnels are key parts of a traffic project that will connect the Bund area with Shanghai's financial zone of Lujiazui in Pudong New Area.
"It will release pressure on traffic," said Qin Kangde, an official with the project.

Drivers had to scramble to go through Yan'an Road Tunnel, the main underground passage from the Bund to Lujiazui, before the two tunnels had been built.

Complaints have been frequent as the Bund has been besieged by traffic jams as it undergoes major construction work ahead of the 2010 Shanghai World Expo.

By 2010, there will be 17 vehicle tunnels and bridges in operation across the Huangpu River with 94 lanes of traffic, according to authorities.

Renmin Road Tunnel, connecting South Bund to Lujiazui, yesterday opened two lanes in Puxi's Henan Road for entrance and exit, while in Pudong they run past Dongchang Road.

It is due to open for full traffic by the end of the year.

Xinjian Road Tunnel, connecting North Bund to Lujiazui, opened a lane near Puxi's Yuhang Road E. and an exit in Tangshan Road near Gaoyang Road.

It leads to Yincheng Road E. in Pudong. The tunnel will open for full traffic next January.

"I will no longer take long routes to Pudong since the entrance is near my home," said a driver in Xinjian Road Tunnel in Hongkou District.

However, traffic police warned that jams may worsen soon after the tunnels were put into use, with the increase in vehicle volume.

The situation is expected to improve after further road constructions are finished next March.


Source:
www.shanghaidaily.com