Norway to push green future at Expo
2009. 24 November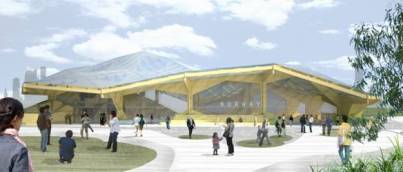 by Yang Jian
(shanghaidaily.com) Norway is very much looking forward to the 2010 World Expo in Shanghai because it will be an opportunity to strengthen its relationship with China and show its industry to the world, Norwegian Prime Minister Jens Stoltenberg said yesterday.

"I would like to use whatever I have to promote Norway at the Expo 2010," Stoltenberg said at a press meeting in his office in Oslo, Norway's capital.
"The Expo will make our excellent relations (between China and Norway) even better through bilateral trade and business development," he said.

The Scandinavian country will build a 3,000-square-meter pavilion, featuring 15 "trees" made from Norway's pine wood and Chinese bamboo.

The trees, ranging from 5 meters tall to 15 meters, will be arranged to present an interpretation of Norway's varied landscapes of forests, fjords, mountains and coastline.

The theme is "Norway Powered by Nature."

Norway wants to cooperate with China in promoting green technologies to tackle global climate change, Stoltenberg said ahead of a major UN climate meeting in Copenhagen next month.

"China is doing an excellent job in trying to promote green technologies," Stoltenberg said.

Norway is working closely with China on efforts to reach an agreement in Copenhagen and to reduce the emission of greenhouse gases, he said.

The country is working with numerous Chinese research institutes and companies on a carbon capture and storage system, known as CCS, designed to capture carbon dioxide from power plants and inject it into the ground, Stoltenberg said.

UN studies indicate that CCS could do more to limit greenhouse gas emissions this century than a shift to renewable energies such as wind or solar power. But the technique has been limited by high costs.

Stoltenberg said the Chinese President Hu Jintao "was very clear on the message" at the 2009 UN Summit on Climate Change in September about China's intention to reduce carbon dioxide emissions.

"We are very encouraged by this strong signal from China," Stoltenberg said.


Source:
www.shanghaidaily.com