AQUAGOLD CEO Delivers End of Year Statement on AQUAGOLD Website
2009. 24 November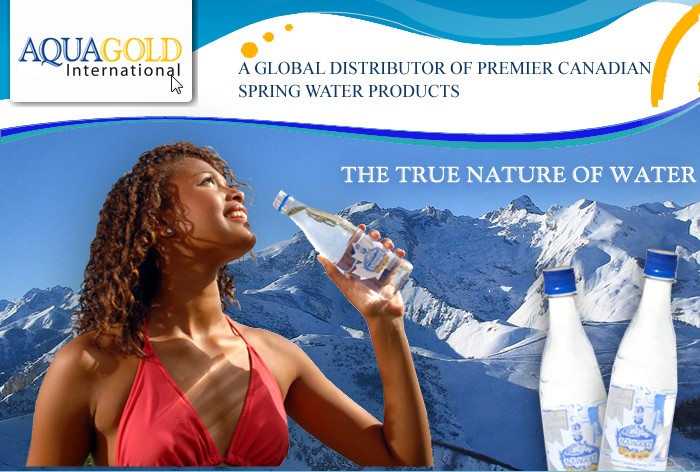 (globenewswire.com) AQUAGOLD INTERNATIONAL (Pink Sheets:AQUI), a global distributor of premier Canadian spring water products, announces that the company's CEO, Domingo Silvas III, will post an end of year statement, recapping the achievements and accomplishments of AQUAGOLD in 2009.
"We have had a year that has been filled with forward momentum, measurable successes and have attended or sponsored several important venues where our bottled water product was introduced," said Mr. Silvas. "The AQUAGOLD team has worked tirelessly to see the company's vision realized and continues striving to be an international distributor of premier Canadian spring water products."
"This has been a year of many accomplishments," expressed Mr. Silvas. The popular television show, AQUAGOLD Superface, with its televised finale, the participation at the historical annual martial arts festival in Jinan, China, the company's sponsorship of the event celebrating Sino-US Relations in New York City and the official launch of AQUAGOLD's flagship product in several LianHua stores throughout China, were just some of the accomplishments that AQUAGOLD experienced this year. The most recent accomplishment was a new contract with the DEVNET agency of the United Nations for the company's products to be exclusively featured with them at the Shanghai World Expo in 2010.
"The awareness of the AQUAGOLD brand has continued to grow in China," commented Mr. Silvas, "but with approximately seventy million visitors with representation from 200 countries expected to attend the Shanghai Expo next year, this international platform is an exciting opportunity to put our product into the hands of consumers throughout China and around the world. We are honored by the many opportunities in China that have been provided to advance the distribution of our bottled water."
In addition to these milestones, AQUAGOLD successfully increased its tier status on OTC markets, brought their financials current and in compliance for the previous fiscal year, successfully completed an internal audit and enhanced financial processes.
"There has been a lot of work done this year," stated Mr. Silvas. "We've secured $197M in contracts, signed on for significant event sponsorship and participation and have seen our product on the supermarket shelves of China. Yet, there is more to do. The team at AQUAGOLD is looking forward to 2010 and what it will mean to our company. We fully expect ongoing growth and expansion."
About AQUAGOLD INTERNATIONAL
AQUAGOLD INTERNATIONAL is pursuing its mission to provide premier Canadian spring water products to the world. Its vision is to distribute its products globally and to become a leading distributor of some of the most recognized brands in the market. The company's mission and vision have begun in China with its first bottled water product, AQUAGOLD Premier Canadian Spring Water.
The information in this press release may involve guidance, expectations, beliefs, plans, intentions or strategies regarding the future. Except for historical information contained herein, all such statements included in this press release are forward-looking statements and are made by AQUAGOLD INTERNATIONAL, INC. in reliance upon the safe harbor provisions of Section 27A of the Securities Act of 1933 and Section 21E of the Securities and Exchange Act of 1934. All forward-looking statements are based upon information currently available. Although Management believes that the expectations reflected in such forward-looking statements are reasonable, it cannot give any assurances that such expectations will prove to have been correct. Actual results may differ materially from those indicated by these statements. Numerous factors could cause or contribute to such differences. The following risk factors, among others, could cause actual results to differ materially from those described in any forward-looking statements. These risks and uncertainties include, but are not limited to, economic conditions, consumer spending, changes in the law or regulations, demand for products and services of the company, the competitive environment within the industry, the economic conditions in the industry and the financial strength of the Company's customers and suppliers. The Company does not undertake any obligation to update such forward-looking statements. Investors are also directed to consider all other risks and uncertainties.

CONTACT:  4D Strategies, LLC
          Joe Matuella
          561.439.9994
          joe@4Dstrategies.com
          www.aquagoldinternational.com

Source:
www.globenewswire.com