Liverpool receives the keys to Shanghai Expo
2009. 25 November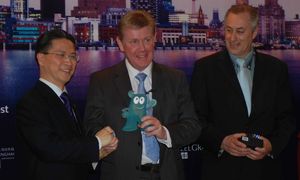 by Marc Waddington (liverpooldailypost.co.uk) A delegation from Liverpool is in Shanghai to officially receive the keys to its World Expo pavilion.
Council leader Cllr Warren Bradley joined Liverpool vision chief Mike Taylor at the formal handover ceremony yesterday.
They met with Expo executive director Jaou Hanmin, who reiterated the strength of Liverpool's relationship with the Far Eastern port.
And he asked that, given Liverpool's worldwide reputation as a city of music, the official music for the event be penned on Merseyside.
The delegation has held meetings with the British Consulate General Carma Elliot and signed a memorandum of understanding with the UK pavilion in order to maximise the benefits to both Liverpool and the country as a whole.
Liverpool is the only UK city to have a presence at the event, beginning in May next year, after London recently pulled out.
But Cllr Bradley said he was "extremely proud" that Liverpool had stuck it out where others had fallen by the wayside.
Cllr Bradley said: "Liverpool's pre-eminence in the 19th century built on the strength of its international relationships.
"Given the importance and power of China and Shanghai in the global economy, it is entirely right that we should be investing in the World Expo for the long-term benefit of the city."
It is hoped the Shanghai Expo will generate investment from overseas business, not just from China but from other countries who will attend the six-month long showcase.
Liverpool Vision director of investment and enterprise, Mike Taylor, said the ceremony was another step towards flying the city's flag on the world stage.
He added: "This ceremony is an important milestone in our plans for the World Expo.
"We will ensure that our presence in Shanghai is just the start of a new understanding between our two cities so that we can exchange trade, culture and knowledge to the benefit of everyone."
Liverpool is an amazing calling card on the international stage and will drive attention to the pavilion, and the organisations with the foresight to get involved in this massive opportunity."
The Peel Group, which controls Liverpool's docklands, is the major sponsor of the venture.
Expo chief Mr Hanmin praised Liverpool.
He added: "It's a city full of ideas, innovation and creativity and the people of China want to see here a unique Liverpool pavilion at the Expo in 2010."
Source:
www.liverpooldailypost.co.uk