Volunteers needed for Shanghai Expo
2009. 27 November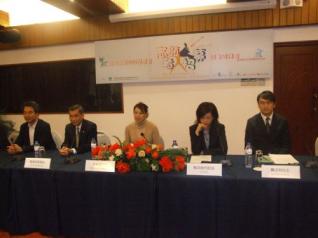 Cristiana Ieong Pou Yee, coordinator of the Office for the Preparation of Macau's Participation in the Shanghai World Expo (C), with representatives from the Institute for Tourism Studies, the Macau Education and Youth Affairs Bureau, the Macau Federation

by Fernando Ferreira
(macaudailytimes.com.mo) Organisers of Macau's pavilion at the 2010 Shanghai World Expo already have 100 volunteers but are seeking more to assist in various roles at the event.

According to the Office for the Preparation of Macau's Participation in the Shanghai World Expo (GPPMEMS) coordinator, Christiana Ieong Pou Yee, organisers want around 300 well educated volunteers to help represent Macau.

At a press conference yesterday, the GPPMEMS coordinator stressed the need to have well educated volunteers, in order to demonstrate the real image of Macau in the global event, which expects to receive more than 70 million visitors during the 184 days of the Expo.

"We want the Macau people to participate in such a meaningful and global event, and this is also a very direct way to demonstrate the image of Macau, to show the characteristics of the Macau people, their politeness, warmth and harmony", Christiana Ieong Pou Yee said.

"Through this event, we would like to promote a sense of patriotic feeling towards our country. We are looking for volunteers over 17 years old, well educated and also become a representative of Macau", she added.

The coordinator hopes to gather around 300 volunteers, but "even with 50 volunteers, we'll be able to perform", Christiana Ieong Pou Yee stressed.

Volunteers that do not reside in Shanghai will be provided with accommodation but will have to bear their own transportation costs.

Volunteers will assist in maintaining order and provide guiding services, reception assistance, translation and interpretation services for visitors, as well as emergency and rescue services and media service, which includes preparation of press releases, promotion and media operations.

The selection criteria for the volunteers will focus on the details provided in the enrolment application, focusing on language knowledge in addition to an interview later in the selection process.
"During the selection procedures, we will prefer local residents but we are accepting applications from people in the mainland. If the number of local applicants is not enough, we will recruit people from outside the territory", GPPMEMS coordinator said.

The volunteers chosen to represent the "best of the Macau people" will receive pre-Expo training, as well as on-site training, in order to provide the best service to the Macau pavilions.

The GPPMEMS will work with the Institute for Tourism Studies (IFT) to provide training for volunteers.

Interested parties have until December 31 to apply. Application forms are available at www.2010expomacao.gov.mo. Forward the details to info@2010expomacao.gov.mo or apply to Avenida da Praia Grande, number 517, Nam Tong Commercial Building, 14 floor A.
Source:
www.macaudailytimes.com.mo