Singapore Highlights New Pavilion
2009. 27 November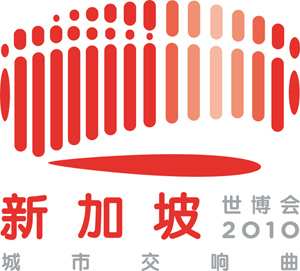 Unveiling of Singapore Pavilion logo and Liu Lian Xiao Xing as Singapore Pavilion mascot.

by Government of Singapore
(thegovmonitor.com) The Singapore Pavilion at World Expo 2010 Shanghai China celebrated the completion of structural works with a topping out ceremony today with an official launch of its logo and mascot.
Minister for Health of Singapore, Mr Khaw Boon Wan, Minister of State for Trade & Industry and Manpower, Mr Lee Yi Shyan and Deputy Director General, Bureau of Shanghai World Expo Coordination, Mr Wu Yunfei, graced the occasion.
Guests at the topping out ceremony were were given a preview of the range of Liu Lian Xiao Xing and Singapore Pavilion logo merchandise, that will be available at the Singapore Pavilion from 1 May to 31 October 2010.
The Singapore Pavilion, themed Urban Symphony and resembling a music box, will provide visitors with a multi-sensory journey through Singaporean lifestyle, identity and values with its sights, sounds, scents and tastes. The three storey structure, with a façade and structural framework of recyclable materials such as aluminium and steel, is on track for completion by April 2010.
"Our participation at this World Expo is an opportunity to showcase Singapore as a progressive global city to live, work and play. Though compact, Singapore has, through urban planning and sustainable development, managed to create a desirable and vibrant living environment. World Expo 2010 will allow us to share this journey of discovery with an international audience and with China in particular, which is a key source market for tourism for Singapore. This is Singapore's biggest participation in any World Expo to date, reflecting our strong and close bilateral relationship with China," said Mr Ken Low, Assistant Chief Executive, Marketing Group, STB.
Topping out ceremony
The topping out ceremony marks the completion of phase two of the Singapore Pavilion's construction. The focus will now shift to the next phrase of construction where interactive elements to engage visitors will be developed. These will include fine-tuning ideas for the visitor journey through the pavilion and appointing vendors, such as those who will manage merchandise, and food and beverage outlets.
International media attended the Singapore Pavilion topping out ceremony at Pudong Shangri-La in Shanghai. The lead architect behind the concept for the Singapore Pavilion, Mr Tan Kay Ngee, was present to field queries about the pavilion design. Guests were invited to view a mini exhibition of the Singapore Pavilion.
Singapore Pavilion mascot – Liu Lian Xiao Xing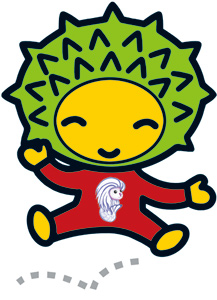 The Singapore Pavilion mascot, Liu Lian Xiao Xing (榴莲小星), a bubbly, inquisitive, durian-loving little Singaporean boy who travels the globe with his musician parents, was met by the World Expo 2010 Shanghai mascot Haibao at the ceremony.
From today, virtual Liu Lian Xiao Xing will also be greeting visitors to the Singapore Pavilion website, www.SingaporeAtWorldExpo.com, in animated sequences and introducing fun facts about Singapore and the Singapore Pavilion. Liu Lian Xiao Xing desktop wallpapers will be available for download on www.SingaporeAtWorldExpo.com
Singapore Pavilion logo
The Singapore Pavilion logo design, conceived by Singapore design firm Epigram, was also revealed. The logo is inspired by the pavilion design and musical instruments, such as the chimes, piano and xylophone.
The colour red, which represents Singapore, evokes passion and features prominently in the logo design. The element of red in our national flag symbolises universal brotherhood and equality of man. Traditionally, in Chinese culture red is also widely known as an auspicious colour, associated with happiness. The colour gradient in our logo embodies Singapore's continuous efforts to balance sustainability and innovation amidst the urban vibrancy of our city state's transforming landscape.
For updates on the Singapore Pavilion, please visit www.SingaporeAtWorldExpo.com.
About World Expo 2010 Shanghai China
World Expo is a 150-year-old global and non-commercial exposition aimed at developing world economy, culture, science and technology, promoting the exchange of ideas and strengthening international relations. Themed "Better City, Better Life 城市,让生活更美好", World Expo 2010 Shanghai China will centre on innovation and interaction, exploring the full potential of urban life in the 21st century. This will be held in Shanghai, Pudong as well as Puxi, from 1 May to 31 October 2010 and is expected to attract 70 million visitors in six months.
For more details on World Expo 2010 Shanghai China, please visit www.en.expo2010china.com.
About the Singapore Tourism Board
The Singapore Tourism Board (STB) is a leading economic development agency in tourism, one of Singapore's key service sectors. Known for partnership, innovation and excellence, the Board champions tourism and builds it into a key economic driver for Singapore. STB aims to differentiate and market Singapore as a must-visit destination offering enriching experiences through the "Uniquely Singapore" brand. For more information, please visit www.stb.gov.sg
Source:
thegovmonitor.com