No PJs in public - dress for Expo
2009. 27 November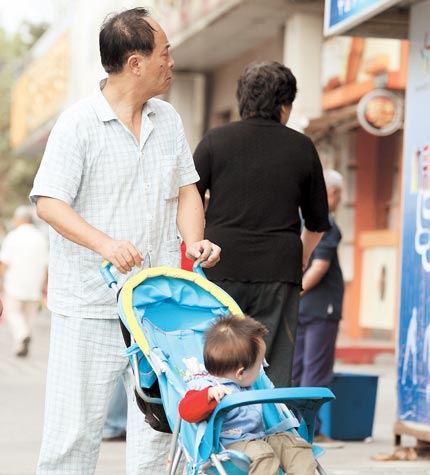 by Yao Minji
(shanghaidaily.com) Every early evening 15 or 20 people wearing all kinds of pajamas can be seen exercising, dancing and socializing in the commercial plaza near Tianlin neighborhood in Xuhui District.

Every evening 57-year-old Xu Li, already wearing her PJ bottoms, puts on lipstick, pulls on her pajama top and takes a 15-minute walk down the street to the plaza, along with her next-door neighbor.
She is among more than 30 men and women, mostly retired, who consider their jammies perfectly presentable for street wear. Many consider wearing PJs in public to be one of Shanghai's charming old customs.

As most are women, fashion is a common topic, including where they get their nice jammies with cutsy colorful prints (like teddy bears, kitty cats and flowers), different weights for different seasons, and so on. Some are Chinese designer brands of shui yi (literally sleep clothes) or pajamas.

Bystanders gather, including women in pajamas with high heels and makeup.

Some people wear their PJs to the nearby supermarket.

Then there are older men who walk about in rumpled pajamas that have seen better days and need a good washing.

But Shanghai's pajama party is supposed to end.

In some districts, neighborhood committees have recruited volunteers for the anti-PJs-in-public patrols, "the pajama police." They try to persuade residents that it's uncool to wear their jammies in public.

No pajamas in public, be civilized for World Expo - that's the slogan. But it's not compulsory.

Those neighbourhood committee officials consider wearing pajamas in public, an old Shanghai neighborhood tradition, to be an embarrassment, especially as the six-month World Expo 2010 opens in Shanghai on May 1.

Wiping out pajamas on the streets is part of the public etiquette campaign for the Expo. Official image-makers don't want the cosmopolitan city to "lose face" in front of foreigners by appearing less than sophisticated.

The same goes for generally uncouth behavior, such as spitting, littering, shouting, queue jumping and pushing, and other irritants. Down come the bamboo laundry poles in areas where Expo visitors are expected.

It must be said the situation has improved on all these fronts.

Some Chinese find the big push to prettify and change longtang (lane) wear and traditional laid-back style offensive, especially as the city gussies up to please Expo visitors.

The campaign to jettison jammies in public has created a stir. Some support the idea, others say they should be able to wear whatever they like and the government should not interfere.

"It's not good to exhibit private things like pajamas in public, but it's really just an individual freedom that should not be disturbed," says Lu Gusun, a leading lexicographer and famous foreign language professor at Fudan University.

Lu says it might be better to have pajama parties for the Expo rather than banning the attire in order not to lose face in front of foreign visitors.

Many local Netizens also consider the campaign too sudden and unenforceable, noting the habit goes back more than 70 years to the time of more casual living in longtang. People in PJs regularly went about on their errands in the neighborhood.

Today many shops sell PJs that obviously are for outwear wear, with mannikins wearing jammies, fashionable shoes and hats, and holding handbags. 'Mom and I argue about pajamas' Linda Lu, 27, returned last summer from Australia with a master's degree and, of course, moved back home.

She finds it difficult to communicate with her parents, whom she considers old fashioned and stuck in the old days.

She and her mother often argue about wearing pajamas on the street. Through her years in Australia, Lu got used to changing into pajamas before going to bed and wearing them just as sleepwear, not casual wear.


Source:
www.shanghaidaily.com