SAIC Shows Off Six Models of Hybrid
2009. 28 November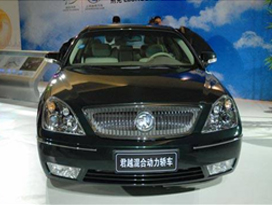 The SAIC Group in China has introduced six new concepts for hybrids, PHEVs, and BEVs that will be on the market in 2010 through to 2012. Prototypes will be on hand for China's 2010 World Expo in Shanghai.

by AaronT
(futurecars.com) At the 2010 World Expo in Shanghai, SAIC plans to have three sedan-style vehicle models for VIP cheuffer, two plug-in hybrids and the other a hydrogen fuel cell hybrid. By the coming of the 2012 Expo, they will have all six concepts serving the public at the Fair.

Through their partnership with General Motors, SAIC will be building a hybrid LaCrosse for use outside of the fair's Expo Zone to shuttle VIPs to hotels and other places of interest.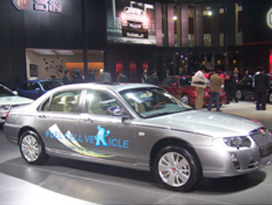 This hybrid uses GM's 2.4L ECO engine coupled with SAIC's hybrid powertrain, improving fuel economy by 16%.

The Shanghai branded fuel cell hybrid will be used inside the Expo Zone for VIPs. It will work as a plug-in hybrid with a hydrogen fuel cell for range extension.

The car can be charged from a 220V outlet in a short amount of time (not specified) and the hydrogen fuel cell is small, just enough to supply the car with longer range.

Like the LaCrosse, this one is meant for use outside of the Expo Zone. It is a BSG (belt driven starter-generator) hybrid and is built on the same model platform as the FCV above.

This BSG system offers a 20% boost in efficiency compared to its gasoline counterpart and will be for sale in late 2010.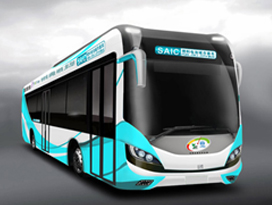 For service within the Expo Zone (which in 2012 will feature an emissions-free inner-zone area), this is part of China's Fuel Cell City Bus Commercialization project.

The bus will feature the advanced dual fuel cell system developed in China. It has a low floor and high-end mainstream city bus features. It will be on hand in 2012.

This four-seat shuttle is battery electric. Built mainly of high-strength fiber-reinforced plastic, the pavilion car is capable of entering many buildings, driving in bicycle lanes, and otherwise going where normal shuttles can't go.

It has a flexible powertrain that can be used in several similar applications and has a max speed of 22mph and a range of 50 miles.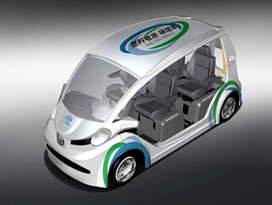 This vehicle is the same as the 4-seater above, but seats 11 and uses a fuel cell for range extension. It is capable of 25mph and a 50 mile range.

These pavilion cars are meant to work inside the Expo-Zone with zero emissions.

And so...

China plans to host the 2010 through 2012 Shanghai World Expo events with zero emissions within the Expo Zone itself. This is an extension of their policy during the Olympics in Beijing.

Source: www.futurecars.com
Photo credits: SAIC