Denmark plans a real sea trip
2009. 1 December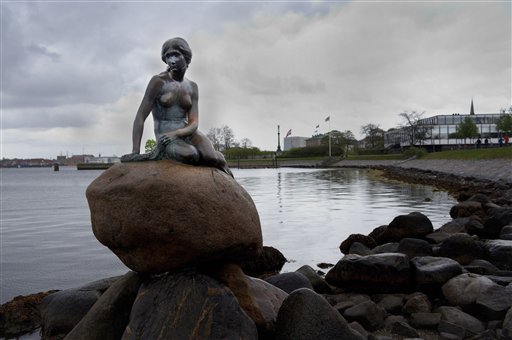 by Yang Jian
(shanghaidaily.com) Denmark will bring a million liters of seawater from the Copenhagen Harbor to a pool in its pavilion at the 2010 Shanghai World Expo, the pavilion's chief architect said yesterday.

The water - an apt setting for the iconic statue "Little Mermaid," which will similarly make the trip from Denmark - will demonstrate Copenhagen's success in cleaning up its harbor that was polluted with industrial wastes 20 years ago but is safe for swimming today.
The steel structure of Denmark's 3,000-square-meter pavilion was finished yesterday.

The swimming pool at the center of the open-air pavilion will be 4 to 5 meters deep, and will resemble the sights of Copenhagen harbor where the mermaid statue resides, said chief architect Bjarke Ingels.

A shallow pool will be built beside for children.

Visitors can sit beside the pool and put their foot into the water, just as Danes do in the Copenhagen Harbor, Ingels said.

A purification system under the pool will ensure the seawater is clean during the 184-day event.

The pavilion is a double spiral with pedestrian and cycling lanes that will take the visitors from the ground through two ramps, up to a level of 12 meters, and down again.

The pool is in the middle of the pavilion.

About 300 bicycles will be brought to the pavilion to be ridden for free during the Expo, officials said.

By showcasing Copenhagen's clean harbor water and city bikes, the pavilion will invite visitors to experience the sustainable life style of Denmark, Troels Lund Poulsen, the Danish minister for the environment, said at the topping-out ceremony.

A Chinese artist, Ai Weiwei, is making an installation to replace the statue at the edge of Copenhagen Harbor during the Expo.


Source:
www.shanghaidaily.com