Expo initiatives could hit road
2009. 3 December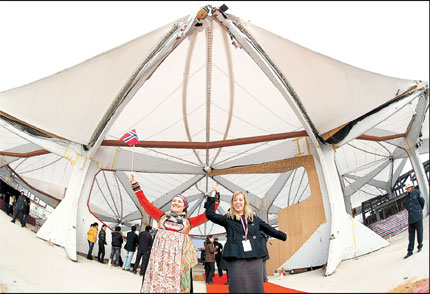 Norwegian performers celebrate the completion of the steel structure yesterday for the Norway Pavilion for the 2010 World Expo. A pine tree was hoisted onto the top of the pavilion, a Scandinavian tradition for good luck. The pavilion will be made of wood and bamboo and 15 structures in the shape of trees will support it.

by Cai Wenjun
(shanghaidaily.com) When the 2010 World Expo is over, Shanghai's government should consider taking some exhibitions on tour to other provinces and municipalities.

That would be a way to further promote the green technologies and materials shown and used during the Expo.
So said an array of consul-generals and corporate executives, speaking to the city's top political advisory body yesterday, the 150-day countdown to the event.

Officials from the Chinese People's Political Consultative Conference's Shanghai Committee agreed on the need to create a low-carbon Expo, and contributed some ideas of their own.

"We have suggested the Bureau of Shanghai World Expo Coordination to carry out regular tests and appraisal on carbon emission reduction at Expo site and announce the results and set special awards for low-carbon technology and its application in the Expo," said Wu Jinlan from the CPPCC Shanghai Committee.

"Solar power technology should also be promoted from the Expo to more projects in the city, which can make use of the Expo to establish its development strategy on a low-carbon economy."

The meeting was the Shanghai committee's annual briefing for consulates and companies that have a presence in the city.

Michael Zhu from Phodia (China) Investment Co said the authorities should help introduce green technologies and exhibitions used in the Expo to the government for wider application and use.


Source:
www.shanghaidaily.com