Lawmakers urge new rules for chemicals
2009. 10 December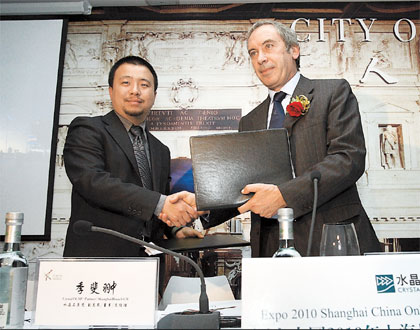 Beniamino Quintieri (right), commissioner general of Italy for World Expo 2010 Shanghai, and Ji Feichong, general manager of Crystal Digital Technology Shanghai branch, shake hands after signing an agreement yesterday in Shanghai. Crystal Digital, the graphic designer for the opening ceremony of the 2008 Beijing Olympics, will build a virtual Italy Pavilion on the Website of the Expo Shanghai Online. Meanwhile, Quintieri told a press conference that the real-life Italy Pavilion will feature fashion. Staff members will dress in Prada, the luxury Italian fashion label. Other Italian fashion brands, including Versace, Armani and D&G, will hold fashion shows during the Expo.

by Cai Wenjun
(shanghaidaily.com)Deputies to Shanghai People's Congress, the local lawmaker, said yesterday that the city government should issue rules to limit the production, storage, transport and use of dangerous chemicals during the 2010 Shanghai World Expo.
Delegates said the city should bar the storage and retailing of dangerous chemicals 500 meters from the Expo zone, and gas stations should be prevented from operating with fire within the Outer Ring Road.

They said that plants involved with chemical production and processing should be shut down if they lack automatic alarming and locking systems.

The officials added that dangerous chemicals transport should be done by professional companies. And they said their vehicles should be equipped with global positioning systems for supervision.

Wu Zhenwei, a congress member and an official from the Shanghai Administration of Safety Production, said about 10,000 companies are involved in the production, transport, storage, sales and use of dangerous chemicals.


Source:
www.shanghaidaily.com