Shaolin Kungfu masters promote cultural exchange in Chicago
2009. 11 December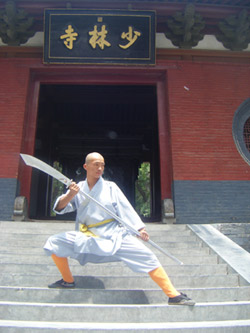 (news.xinhuanet.com) Shaolin Kungfu is a precious part of Chinese culture and Shaolin Kungfu masters are helping promote cultural exchange between China and other countries, and ultimately help enrich people's life all over the world, a distinguished Shaolin Kungfu master said here on Thursday.
    As the chief coach of Shaolin Warrior Monks, Shi Yanlu arrived in Chicago Monday, along with a group of other 13 Kungfu monks from Shaolin Temple in China.
    Invited by Suncastv, a Chicago-based IPTV provider, the Shaolin delegation will present Shaolin martial arts performance at Paramount Theatre of Aurora, a suburb of Chicago on Saturday.
    "We are here to showcase our Shaolin Kungfu and Shaolin culture. We would like to promote culture exchanges and help American friends get more interested in and better understand Chinese culture," Shi told Xinhua in an exclusive interview.
    Shi came from a well-known family of martial arts performers and became a monk in 1985. In 1988 he won the championship at the World Martial Arts Meeting held in Toronto, Canada. In 2004, he set up overseas divisions of the Shaolin Training Base in many countries including the United States, France, Russia and Germany.
    According to Shi, Shaolin Temple is a Chan Buddhist temple located at Mount Song in China's Henan Province. Founded in the 5th century, the monastery has long been famous for its association with Chinese martial arts and particularly with Shaolin Kungfu.
    "Shaolin Temple has a history of about 1,500 years. Generations of Shaolin monks have done years and years of research, experiment and innovation to develop Shaolin Kungfu into a famous martial arts form in the world," Shi said.
    "However, most people only know about the Kungfu but don't understand the deeper Shaolin culture. The essence of Shaolin culture is a unique blend of spirituality, wisdom and courage."
    According to Shaolin Temple, the foundations of Shaolin culture are Chan, martial arts and medicine. It advocates the Shaolin way of life in order to improve the physical and spiritual well-being of humanity. Its ultimate goal is to promote, put into practice and spread the Shaolin Chan sect spirit to the world.
    Asked about the international influence of Shaolin culture, Shi said: "Shaolin Temple has become more and more international over the last few years. We maintain exchanges with hundreds of cities and regions in the world. Each year we welcome thousands of international friends to Shaolin Temple for short-term or long-term training. Meanwhile, we are also trying to send our Kungfu monks to different places of the world so that we can bring Shaolin culture closer to people who love it."
    As one of its international training bases, Chicago Shaolin Temple was established a couple of years ago to introduce and promote Shaolin culture in Chicago and beyond.
    "We have set up centers in France, Russian, Germany and so on. ... Hopefully, our overseas centers can help people not only to learn and practice Shaolin Kungfu, but also to understand our culture better," Shi said.
    "Shaolin culture is a precious part of Chinese culture. By spreading Shaolin culture to more and more people in the world, we help them get to know and become more interested in Chinese culture. As a result, it will ultimately enrich people's life both spiritually and physically."
    According to Shi, Shaolin will stage performances titled "Shaolin Temple: Saga of Warriors Monks" during the 2010 Shanghai World Expo, offering a Kungfu gala for fans from around the globe.
    "We are very excited and grateful about this wonderful opportunity to show the world our Kungfu. We are working very hard to prepare for it now and we will do our best to help make the Shanghai World Expo the best expo in history," Shi said.
    Liu Yingbiao, secretary general of Shaolin Charity and Welfare Fund, is leader of the Shaolin Temple delegation. "I joined Shaolin Temple in 1983 when it was not very well known yet. Today we are known worldwide for our Shaolin Kungfu. Many international VIPs have visited our Temple including former Russian President Vladimir Putin. We would love to serve as a bridge to help promote communication between China and the rest of the world," Liu said.
    Talking about the Shanghai Expo 2010, Liu said: "Shaolin Temple will have an 80-people group to perform. We are very fortunate to have this opportunity to present to the whole world our Shaolin culture and help them understand and appreciate Chinese culture better."
    Xie Yunliang, acting consul general of the Chinese Consulate in Chicago, said the Shaolin Kungfu masters' visit to Chicago was "very meaningful." "Shaolin Kungfu is not only martial arts, but also a philosophy. That is why it can last for 1,500 years and become even more popular today. I am very happy to see that Shaolin Temple has started entering the world stage, promoting cultural exchanges around the world."
    "(U.S.) President (Barack) Obama has just had a very successful visit to China in November. ... Cultural exchange plays a very important role in enhancing U.S.-China relations. Shaolin Temple is making a great contribution to promoting Chinese culture and enhancing cultural exchange," Xie added.
Source:
news.xinhuanet.com