The world's eyes are on Shanghai
2009. 12 December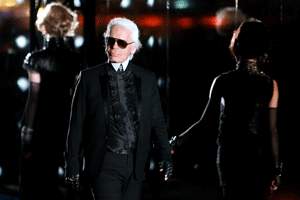 Karl Lagerfeld of Chanel at the Peninsula Shanghai Hotel. ChinaFotoPress / Getty Images

by Julia Robson
(thenational.ae) Fittingly, in the week fingers wagged at the world's fastest-growing major economy and second largest polluter, China, we find Karl Lagerfeld, a fashion designer who loves to courtcontroversy, staging a floating catwalk on the proverbial showboat.

Lagerfeld was in China's largest (and by far most fashionable) city, Shanghai, not to discuss the clothing industry's commitments to carbon-emissions targets but to show his Chanel pre-fall 2010 collection to a thousand-strong crowd of fashionistas.
Given the choice of Copenhagen (famous for gifting Helena Christensen to the fashion world) or Shanghai, a fashion capital in the making, I know which I'd choose even without the promise of a Chanel show and despite the smog.

Now, thanks to Lagerfeld, a trip to a Chinese restaurant is going to feel like a lesson in style (start paying attention to tasselled lamp shades and red and black decor immediately).
Shanghai is being compared to Tokyo in the late 1980s, when Comme des Garçons and Yohji Yamamoto put it on the map. Last week, John Galliano was in Shanghai hunting locations for the latest Dior ad campaign, which will be shot in various locations by David Lynch.

Next year the city will be swelled by an expected 70 million tourists when it hosts Expo 2010 – that's on top of the thousands of western designers and fashion buyers who regularly call it their second home. As well as being an epicentre for clothing manufacture, it has also become the number-one source for fabrics.
Not that anyone as fiercely nationalistic and ferociously French as the privately owned house of Chanel would dream of coming here to do anything besides show off.

Traditionally Chanel's pre-fall (and cruise) show flaunts the skills of French collaborators supported by the house, from embroiderers and milliners to goldsmiths and shoemakers.

More recently Lagerfeld has also used it to drive home a political point, paying homage to emerging regions that are supporting Chanel with their patronage.
In December 2007, just after the Lehman Brothers Bank collapse, he made recession-gripped London the unlikely location of his pre-fall show and loosely worked in Coco Chanel's alleged affair with Hugh Grosvenor, Duke of Westminster, as a theme. This was, in fact, an excuse to gather together an audience comprised almost entirely of Russian oligarchs who then lived in the English capital.

To give it an entirely Russian theme would have been cheesy. He waited a year to do this with his Paris-Moscou show, packed with references to all things Russian (remember the Soviet uniform-inspired suits and matrioshka-doll handbags?), staged in Paris.
Last week's spectacular event on the banks of the Huangpu river set against the nightscape of Pudong, with its teetering skyscrapers, served its purpose.

Lagerfeld's Chinese influences, from Cheongsam dresses to red and black shiny lacquered surfaces, oriental floral prints to a moss green, Chairman Mao-inspired Chanel jacket and jade jewellery, will have flattered the home crowd, and made them aware they were being acknowledged in the grander scheme of things.
Another nice touch was to include the handful of Chinese models, Shu Pei Qin, Liu Wen, Emma Pei and the former Miss China, Du Juan, in an impressive superleague supermodel line-up that included Anja Rubik, Denisa Dvorakova and Jessica Stam among others.

Although Russian Vogue famously capitalised on the Chanel pre-fall 2008 show (subsequently dedicating an entire issue to all things Russian-inspired) it will be interesting to see how Chinese Vogue reacts to the fuss.
Source:
www.thenational.ae