Expo Teapots Go on Display in Shanghai
2009. 13 December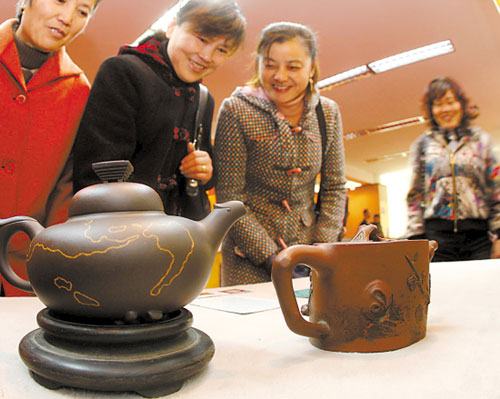 Visitors look at two World Expo teapots displayed in Shanghai on Saturday, December 12, 2009. The one on the left has been especially designed for the upcoming World Expo which will kick off in the city on May 1, while the other was displayed at the 1915 Expo in San Francisco, the United States. [Photo: Jiefang Daily]

(english.cri.cn) A teapot designed for the upcoming World Expo and one which had been made for the 1915 Expo went on display in Shanghai this weekend, the Shanghai-based newspaper Jiefang Daily reports.
Both of the teapots feature typical elements of Chinese culture. The new one has a miniature version of the China Pavilion for the 2010 Expo on the top of its lid, while the image of Haibao, the Expo mascot, is carved on the bottom of the teapot. The older one, displayed in San Francisco 94 years ago, has plum blossoms-one of Chinese people's favorite flowers- engraved on it.
More than 1,000 items related to the international event, including the two teapots, are being displayed in Shanghai's Baoshan District to promote the biggest event in China after the Beijing Olympics in 2008.
Visitors to the exhibition will see valuable China-made products such as brocade, embroidery and zisha teapots made of extra-fine purple clay from eastern China. All of the items were displayed at World Expos between 1851 and 1940. Some of the items had won Expo medals for China.
Source:
english.cri.cn