Hungary to help with Hudec restorations
2009. 16 December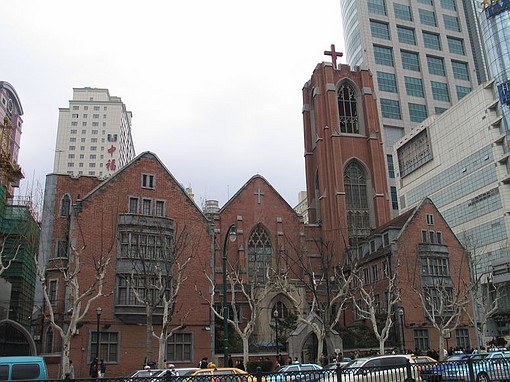 Laszlo Hudec: Moore Church

by Yang Jian
(shanghaidaily.com) Hungary will donate money to restore some of the historic buildings designed by Hungarian architect Lazlo Hudec in Shanghai, possibly including the city's landmark Grand Theatre and Park Hotel, a senior official of the country said yesterday after unveiling its pavilion design for the 2010 World Expo.

The country is working with the Shanghai Culture Heritage Management Committee to pick up some Hudec's buildings to restore to his original designs both on facade and outfitting, said Andras Huszty, special envoy of the Hungarian Prime Minister Gordon Bajnai and commissioner general for the country's Expo project.
Hudec was responsible for many architectural masterpieces in Shanghai in 1920s and 1930s. His gifts to Shanghai include hotels, private houses and factories and vary in styles from classical to art deco and modern.

His buildings include the American Club on Fuzhou Road, the McTyeire School on Jiangsu Road and the Joint Saving and Loan Society Building on Sichuan Road.

All the more than 60 buildings from Hudec across the city are within the selection, especially those that aren't well protected, the special envoy said.

The country will soon launch a "Hudec Tour" with a Shanghai travel agency to take visitors to the main Hudec buildings by bus. Tours will be tied to Hungary's Expo pavilion as "a part of its Expo exhibition outside the Expo site," he added.

Hungary is renting a 1,000-square-meter pavilion at the Expo with the theme, "Harmony, Creativity and Hospitality."

The centerpiece of the pavilion is Gomboc, a geometric shape created by Hungarian mathematicians that is best known as a roly-poly toy - push it down and it springs back up.

The Hungarians wanted to tell that, "just like the Gomboc, Hungary always recovers," said Huszty.


Source:
www.shanghaidaily.com