Ceremony held for Shanghai Expo's Japan Pavilion
2009. 27 December
Japan Pavilion shines at the night of December 25.

(japantimes.co.jp) A ceremony to commemorate the completion of the Japan Pavilion for the 2010 Shanghai Exposition took place Saturday, as preparations continued for the event that starts in May.

Based on the look of the building, the purple-colored pavilion was given the name "Kaikojima," which means "silkworm island."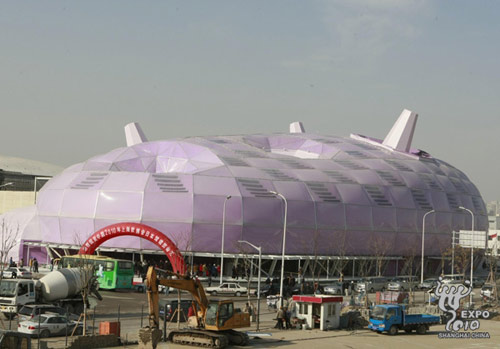 Chiaki Takahashi, parliamentary secretary for the Ministry of Economy, Trade and Industry, and Hiroshi Tsukamoto, the government representative of the Japan Pavilion to the Shanghai Expo, attended Saturday's ceremony.

"The expo is a very important project as it will attract people from all over the world," Takahashi said. "The Japanese government will do our best to make the Japan Pavilion a success."

The building, which covers 7,200 sq. meters, has various environmentally friendly technologies installed, including an "eco-tube" which recycles rain water to cool the building.

The entire government project will cost ¥13 billion, of which nearly half will be stumped up by the private sector, sources said.

Osaka Prefecture, the city of Osaka, as well as a group of private businesses, will also participate in the Shanghai Expo.

Source: www.japantimes.co.jp/