Skaters steal hearts on Expo float
2010. 5 January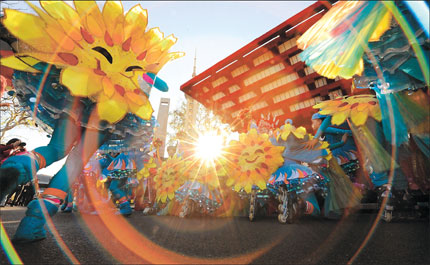 Pupils from the Shanghai No. 3 Hongkou Central Primary School perform in Haibao costumes around the float.

by Yan Zhen
(shanghaidaily.com) World Expo 2010 Shanghai's rose float debut at the Tournament of Roses Parade in Pasadena, one of the most popular New Year celebrations in the United States, proved to be a great hit.
Millions of people flocked to the southern California town from all over the world for a peek at the glamorous parade. Excited spectators burst into cheers when the Shanghai World Expo float veered into their sight, led by a squad of roller-skating little girls in Expo mascot Haibao costumes.

These cute girls dressed in blue with colorful gauzy wings stood out from nearly 100 floats in the parade, and photos of them were used on the front page of the Los Angeles Times the following day.

"We've been exercising and rehearsing for the parade for more than six months, day in and day out regardless of rain or shine," said Qu Fuyufan, a fourth-grader with the Shanghai No. 3 Hongkou Central Primary School, one of 80 roller-skaters who took part in the parade.

The 16.8-meter-long, 11-meter-high float carried the Expo mascot Haibao made of blue statice flowers and floral replicas of the city's landmarks including the China Pavilion, the Oriental Pearl TV Tower, Jin Mao Tower and the Shanghai World Financial Center.

Using crutches, Shanghai's NBA star Yao Ming attended the pre-parade rehearsals to cheer up performers despite his injured left foot.

Action star Jackie Chan, also an Expo image ambassador, added glamor to the float, waving to watching crowds along the streets throughout the entire two-hour parade.

"We feel our efforts paid off, as China has grabbed the attention of the world again," Chan said.

The parade was broadcast throughout the world with an estimated 500 million TV viewers, organizers said.


Pupils from the Shanghai No. 3 Hongkou Central Primary School perform in Haibao costumes around the float. Read more: http://www.shanghaidaily.com/article/?id=424680#ixzz0bjlM17QU
by Yan Zhen
(shanghaidaily.com)
Source:
www.shanghaidaily.com