Ticket options suit needs, budgets
2010. 5 January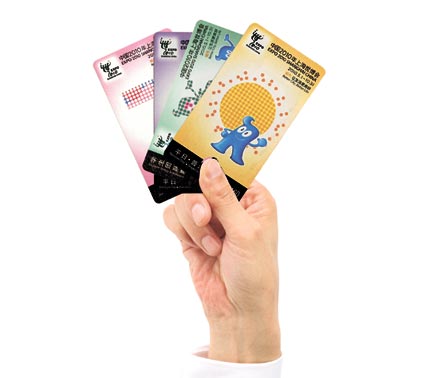 The Shanghai World Expo organizer has designed six main kinds of tickets with different prices to meet the needs of most people.

by Yang Jian
(shanghaidaily.com) Now is the time to plan your visit to this year's World Expo and the best way to enjoy it is by selecting the right ticket combination. There are many options that allow you to avoid crowds and heat and give discounts. Yang Jian weighs them up.

Buying the right tickets to World Expo 2010 Shanghai can help make your visit to the massive fair more efficient and also save money.
The Expo organizer has designed six main kinds of tickets with different prices to meet the needs of most people.

Sales have started of the ordinary tickets (160 yuan, US$23.46) and peak-day tickets (200 yuan).

Since last Friday, people are able to buy three- (400 yuan) and seven-day (900 yuan) tickets that will allow repeated visits to Expo.

Discounted tickets cheaper by nearly 40 percent are also available.

After the Expo starts in May, people can buy cheaper night tickets (90 yuan) at the entrance.

Which ticket will be the most suitable for you? Who can enjoy the discounts? Why are the peak-day tickets more expensive?

The multi-day tickets are an innovation at Shanghai World Expo. They will be good for any three- or seven-day period during the event, which runs from May 1 to October 31, apart from holidays and other peak periods.

The tickets - with an average price of about 130 yuan per day - will be suitable for travelers who have several days in Shanghai to attend Expo.

They can divide the Expo site into different regions according to countries to facilitate a visit to one region each day.

The main areas of the Expo site cover 3.22 square kilometers in Pudong and 0.75 square kilometers in Puxi, so three-day ticket holders can spend two days in Pudong and another in Puxi.

However, people in Shanghai can buy tickets and choose days in different months to watch the different events.

The organizer is planting different trees and flowers to make the site distinctive in different months. Foreign pavilions will also change their exhibitions from time to time.

For example, a three-day-ticket holder can go to the Expo site one day in May to see the grand opening of various pavilions, another day at the beginning of October to watch the climax of the event and the last day at the end of Expo to buy discounted products from foreign pavilions.

Since a single multi-day ticket will enable different people to visit the Expo site on different days, people can also buy tickets with friends and family members and attend Expo in turns.

The night tickets, which will only be available during Expo, will be suitable for those who mainly want to see the exotic pavilion designs and who prefer a cooler environment.

Night-ticket holders will be able to enter the Expo site from 5pm to 12am. All the pavilions will open until 10:30pm but the lights will stay on until later.

The pavilions will be more beautiful under lights at night. Many pavilions will even have special events - the Norway Pavilion will have a polar light show on the rooftop of its pavilion, and the Korean Corporate Pavilion will launch snow shows every night.

Those who dislike crowds and sunshine can buy night tickets for June or September, expected to have the least number of visitors, to enjoy both less-crowded spaces and a cooler climate.

However, night tickets will allow only brief visits to the inside of pavilions and limits might be set on quantity when the Expo site is over-crowded, says Chen Xianjin, deputy director-general of the Bureau of Shanghai World Expo Coordination.

The peak-day tickets have been hot items. The 200-yuan ticket for 17 days that are expected to be especially crowded, including May Day and National Day holidays and the last week of Expo (October 25 to 31), have been extremely popular since sales began on March 27 last year.


Source:
www.shanghaidaily.com