Hundreds rush for Expo gold
2010. 9 January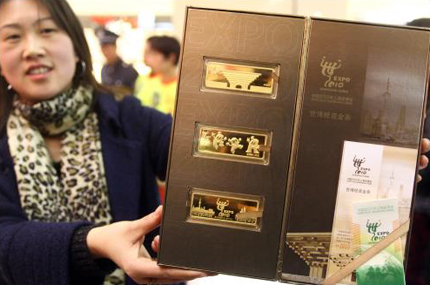 World Expo 2010 Shanghai investment gold bars go on sale in Shanghai. The bars are made of 99.99 percent pure gold and vary from 10 grams to 500 grams. The bars are priced at 15 yuan (US$2.19) per gram more than the trading price on Shanghai Gold Exchange.

by Xu Chi
(shanghaidaily.com) Hundreds of local residents rushed to be the first to own the World Expo 2010 gold bars after they went on sale yesterday.

The limited edition of the commemorative gold bars, authorized by the Expo licensed products office, were issued by the Commercial Gold Co Ltd.
The bars can be sold back to the company at any time, so have an investment value as well as being collectors' items, said the company's Wang Hui.

"We authorized the selling of similar gold bars before, but it's the first time we have given a pass for redeemable ones," said Zhang Yongzhe, an official from the Bureau of Shanghai World Expo Coordination.

The bars are in three editions with different engraved patterns -- the Expo mascot Haibao, the China Pavilion and the official symbol of the World Expo -- and are available in 10, 20, 50, 100, 150 and 500 gram weights.

A 150-gram set of 50-gram gold bars of the three editions has also been released with a limited quantity of 6,000.

The bars are being sold at the daily market price plus 15 yuan per gram. Yesterday's market price was 250.34 yuan (US$36.66) per gram.

Buyers will be able to sell the bars back to designated outlets at market price minus 4 yuan per gram.

"I believe that gold may bring luck as well as profit to my family with its excellent performance in the world's market," said Wang Yimin, a 50-year-old retired worker who bought a set of bars. "If I can't earn much money with it, certainly my son and my grandson may enjoy the long-term profit."

Customers can buy the bars at four department stores at 501 Zhangyang Road, 1288 Zhenguang Road, 830 Nanjing Road E. and 2500 Siping Road.

Buyers will be able to sell the gold bars back at the department store at 830 Nanjin Road E. or call (021) 6352 6967 for more information.


Source:
www.shanghaidaily.com