Swiss architect constructs uniquely green exhibit for world exp
2010. 9 January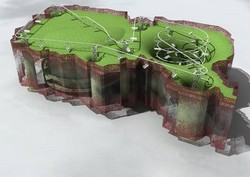 by Jason Segarra
(design-training.com) At the 2010 world expo in Shanghai, a collection of 200 international designers, engineers and architects from across the world will present their own interpretations of the fair''s theme, Better City - Better Life. For his part, Swiss architect Andreas Bruendler''s display for his country''s pavilion is sure to draw a crowd.
The Swiss pavilion will feature a chairlift ride that will sweep visitors upwards through an illuminated spiraling shaft before leading them across a rooftop meadow littered with individual solar panels encased in a resin comprised of soybean paste and natural oils before returning to its original position.

The pavilion will stand for the duration of the six-month World Expo that is anticipated to draw roughly 70 million visitors, the largest turnout for any such exhibition.

Bruendler is excited to see his design realized, despite the relatively short life the structure will have.

"You can explore new concepts. You''re closer to a free idea," he tells the Associated Press. "With a real construction, it has to hold for 20, 40, 60, 100 years. The limited period for which the pavilion stands here gives you a chance to think about the future developments in architecture."
Source:
www.design-training.com