Austrian pavilion
Austrian pavilion - 05 April 2009.
(span.vox.com)
SPAN & Zeytinoglu win the competition for the Austrian Pavilion at Shanghai EXPO 2010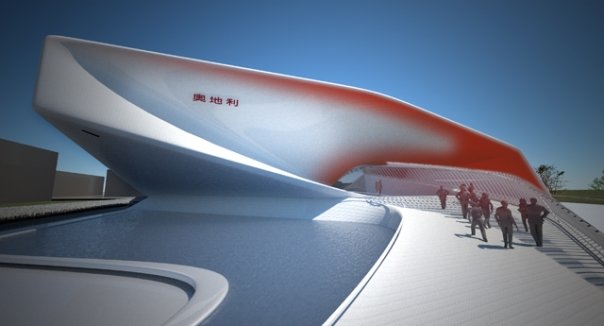 The Topology of Sound
" The main driving force behind the design of the Austrian Pavilion for the EXPO in Shanghai 2010 can be described as acoustic forces, or more accurately as music.
Music as a concept that reflects continuity in terms of architectural articulation that seamlessly connects the various spaces within the program. The embodiment of the sonic conditions within the space manifest the architecture of the pavilion, which resonates to the rhythm of the Video Jockeys (VJs) performance - the conductor of the atmospheres within the main space.
The rich history of Austrian musical tradition makes it possible to create a performance program reaching from Baroque Music, to the classic area to the Modern age to contemporary acts. The space unfurls from within the topological body, from the main space, the audience chamber, to the exterior epidermis. This process creates pockets, pochés that include the rest of the program such as Shop, Restaurant, Office, and the VIP Area.
Each one of those programmatic areas includes qualities co notated with the quality of living within Austrian conurbations: Music, Culture, Culinary expertise, urban textures, opulent landscapes and lavish foliages."(SPAN)
SPAN: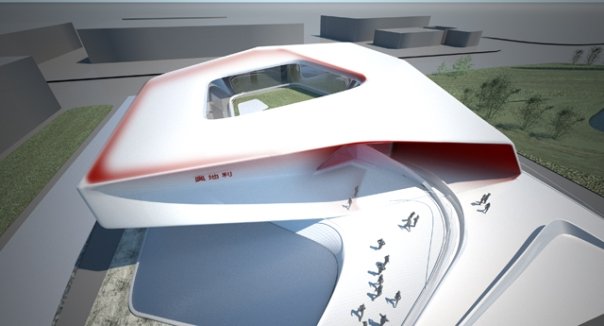 ­Vienna based Architecture Firm SPAN, headed by Matias del Campo and Sandra Manninger, is driven by a compulsive desire to speculate about architectural opportunities in the presence of animated matter, organic entities and their underlying geometrical and mathematical presence. Their award winning architecture designs are informed by specific sources within the fields of mathematics, geometry, botany, biology and life sciences.
The manifold inspirations are fused into projects applying the most advanced digital design tools and casted into form by computer controlled machinery, making SPAN one of the most innovative architecture practices. Their activities include Architecture Design, exhibitions and lectures as well as teaching in various countries and institutions, such as the University of Applied Arts Vienna, the Bauhaus Dessau and the ESARQ in Barcelona.
Source:
span.vox.com