Israel pavilion
Israel pavilion - 2008.11.03.
Video animation
Click to the picture!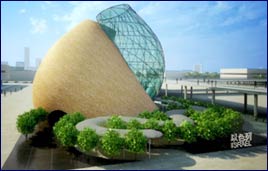 Download
Israel pavilion design (PDF)
Israel pavilion (press release) (PDF) >>
The foundation was laid Wednesday for construction of the Israeli national pavilion at Shanghai World Expo 2010. Some 40 countries and international organizations have decided to build their own halls or pavilions at the Shanghai World Expo, half of which are under construction or finished.
Haim Dotan, a pioneering Israeli architect who was recently selected to design (with designer Prosper Amir) and construct the Israeli pavilion at the World Expo 2010 in Shanghai, China, is the designer behind AORA's iconic solar energy tower.
From the architect:
'The AORA solar tower was conceptualized as a flower in the desert, symbolizing harmony and balance with nature. It incorporates elements of art, sculpture, architecture and soul,' said Haim Dotan, designer and architect of the AORA solar energy tower. 'The purpose of the flower is to attract attention, increase awareness, and to create emotion and excitement among adults and children about the importance of clean energy.'
Unlike other solar towers around the world, which are primarily utilitarian, functional towers made of grey galvanized steel; Dotan's new and innovative solar tower design is shaped like a colorful flower and complements the natural topography of the surrounding landscape.
AORA's power station, located in Kibbutz Samar, is the world's first commercial hybrid solarized gas-turbine power station capable of producing uninterrupted, green power during the day. 30 tracking mirrors (heliostats) situated on half an acre of desert land track the sun and reflect its rays towards the top of the 30-meter high solar tower, which consists of a 24-meter structural column and a 6-meter, two level mechanical space containing a special solar receiver, a 100kw gas turbine and related electrical and mechanical equipment.
The patented receiver uses the sun's energy to heat air to a temperature of 1,000 degrees Celsius and directs this energy into the turbine. The turbine in turn converts the thermal energy into electric power that is fed directly into the national power grid.
'AORA is honored to collaborate with the very talented Mr. Dotan on this project,' said Haim Fried, CEO of AORA. 'Mr. Dotan translated AORA's vision into a stunning, environment-friendly landmark. Moreover, he was able to deliver quality design, production and construction of the tower at a low cost, which is a key component to our solar energy solution.'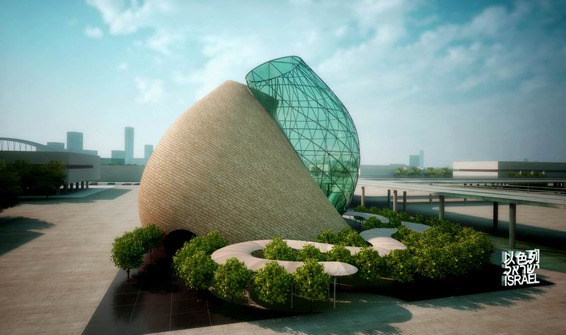 The low cost solar tower is made of recyclable materials, mainly pre-fabricated curved steel sheets, which can be easily assembled and
erected in just two days. AORA's modular solar energy system may be scaled and customized according to customer demand. As more energy is needed and as the station expands, additional towers may be erected in a variety of colors, creating a harmonious colorful garden of solar power flower towers.
'I hope to see more beautiful solar flowers throughout deserts and around the world in the coming years,- said Dotan.
Project description from the organizers:
'Israel will highlight innovation in its pavilion at World Expo 2010 along with putting a spotlight on ancient Jewish culture.
The two dynamic forms symbolize Israeli innovation and technology, said Irit Ben-Abba, the State of Israel's commissioner general for Expo 2010.
The message of Israel to World Expo is 'Innovation for Better Life.' It will echo the theme of the 2010 event, which is 'Better City, Better Life,' said Ben-Abba.
'Israel constantly seeks to contribute a substantial share to the world's leading innovations in art, science, literature and design and we believe innovation will contribute to better life,' Ben-Abba said after signing a contract in Shanghai.
She added the 2,000-square-meter pavilion could also represent the dialogue between humanity and nature, the earth and sky, as well as the past and the future.
The pavilion consists of three areas – Whispering Garden, Hall of Light and Hall of Innovations.
The Whispering Garden is a green orchard that greets visitors as they enter the building. Some facilities will be installed to make the trees begin to 'whisper' in both English and Chinese when visitors walk close to them, Haim Z. Dotan, chief designer of the pavilion, told Shanghai Daily.
The hall of Light includes a 15-meter high screen. It will display films highlighting the country's innovations and technological achievements.
The Hall of Innovation is the centerpiece of the Israel Pavilion. A special audio-visual show will allow visitors to talk with Israeli children, scientists, doctors and inventors via hundreds of screens. These Israelis will introduce themselves and share their hopes for a better future.
It will not be a face-to-face talk because the talks will be pre-recorded, Dotan said. He told Shanghai Daily that visitors could hold a genuine conversation with Israeli people in the virtual Israel Pavilion at Expo Shanghai Online.
Expo Shanghai Online is an innovation of Expo 2010. It offers a three-dimensional virtual visit to the Expo site via the Internet. Israel also signed a contract today to participate in Expo Shanghai Online.
Israel allocated about US$6 million for its participation at Expo 2010, which includes the cost of its pavilion and other activities.
It is the first time Israel has committed to building a national pavilion at a World Expo.
So far, 227 countries, regions and international organizations have confirmed they will participate at Expo 2010.'
About Haim Dotan Ltd.
Haim Dotan, the designer of AORA's distinctive 30 meter-high solar receiving "solar flower" tower, is a pioneering architect who has modernized the architectural construction field in Israel with innovations and new directions using steel, light weight materials and unique methods of building. His company, Haim Dotan Ltd, focuses on innovative cutting-edge architecture, research and construction and designs private and public projects in Asia, the Persian Gulf, Africa, Israel and Europe. Haim Dotan is an architectural pioneer in developing construction techniques for residential, commercial, industrial, educational and public institutions. The firm places emphasis on accurate building details, construction costs, time tables and economical analysis of design alternatives and systems. In
his projects, Architect Dotan creates a new language in the global architecture landscape.
About AORA
AORA, a renewable energy pioneer, is a leading developer of applied ultra-high temperature concentrating solar power (CSP) technologies. AORA's modular solar power generation solutions are comprised of very small modular units (100kWe / 170kW heat) which can be linked together into centrally controlled power plants, customized to client demand. When the amount of sunlight is not sufficient, the system operates on almost any alternative fuel source, thereby guaranteeing an uninterrupted green power supply,
24hr/day. AORA is a member of the E.D.I.G. Construction Management Group.
Source: www.archicentral.com