Romania pavilion
Romania pavilion - 23 February 2009.

An area of 2000 m2, located in Zone C - Zone Europe, America, Africa was assigned for the Romania Pavilion. Neighbouring countries are: Croatia, Austria, Luxembourg, and the Netherlands.
The concept design competition for the Romania Pavilion, "Exchange of Ideas", was won by SC M&C STRATEGY DEVELOPMENT SRL.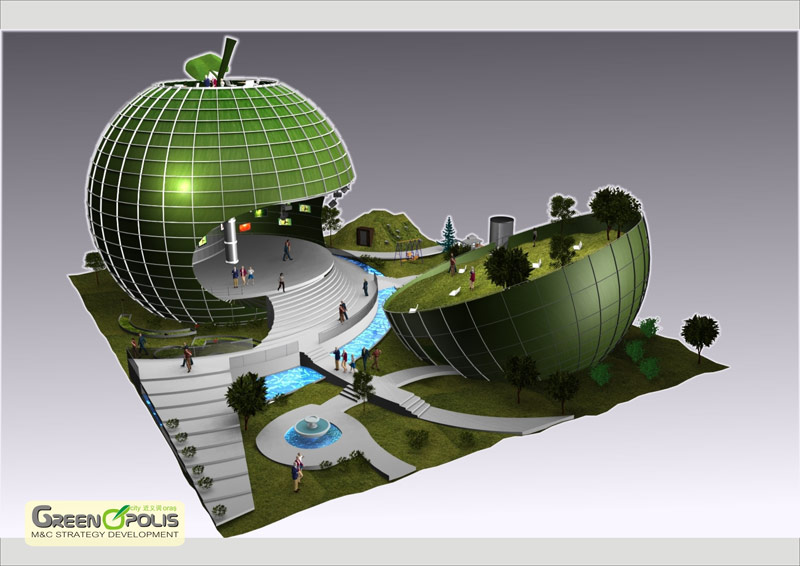 Greenopolis, "The green mega polis" is a term with universal meaning, metamorphosed in a fruit, the apple, which means health, knowledge, freshness, temptation, eternity. The surrounding Greenopolis landscape recreates principal elements of the nature (the lawn from the hills, rivers, grass).
The apple is divided in two parts: the main body from which is detached a slice, the secondary body. The inside architectural design has generous and multifunctional spaces, disposed on 5 floors and the access in Greenopolis follows a natural line which allows visiting all the modules without passing over any zone.
The ground floor: administrative offices, dressing-rooms for artists and auxiliary spaces/ depositing.
The first floor: the mixed space (indoor-outdoor) is dedicated to out-door cultural events, main constructive feature being the scene for music shows, theatre, dance, projections.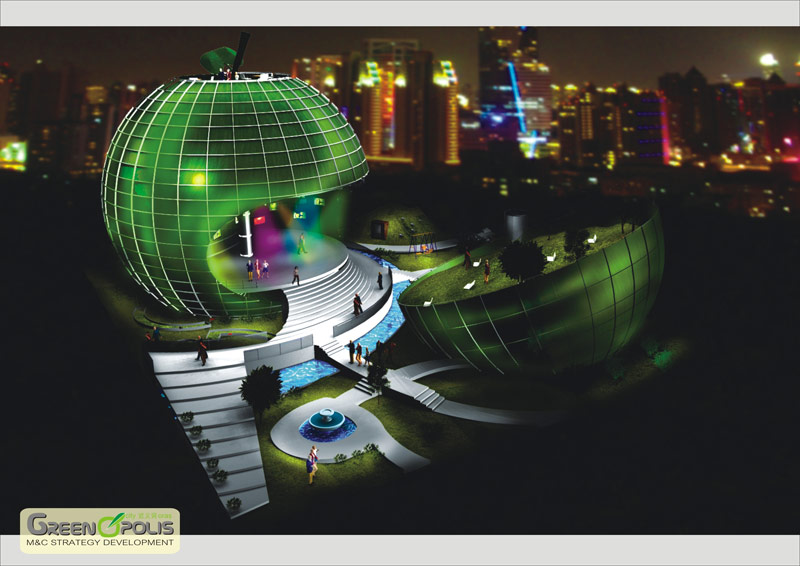 The second floor: the restaurant, is a space for relaxation and for tasting the traditional Romanian food and drink in a spectacular location which offers a panoramically view.
The third floor: multifunctional space/conference room.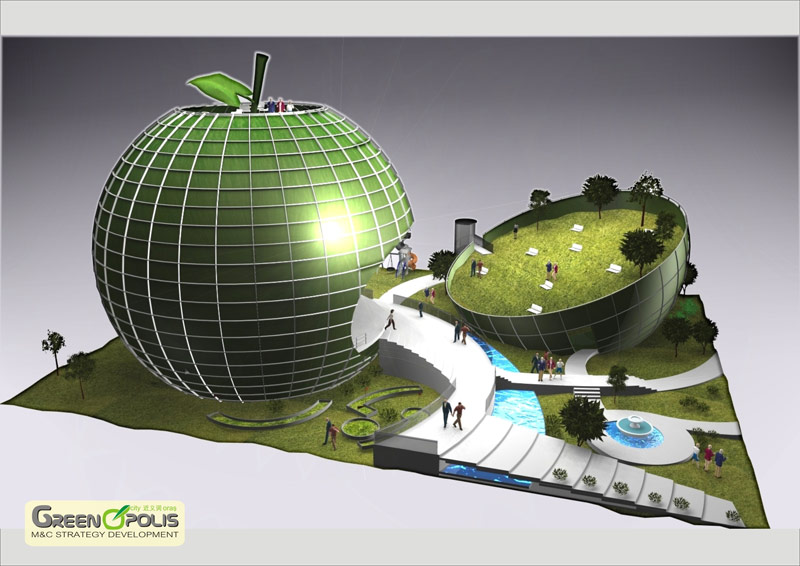 The fourth floor is the panoramically platform out-door.
The secondary part- "the slice of the apple", has, like the main body, indoor spaces (a multifunctional exhibitions hall) and outdoor spaces (a terraced lawn, a space for recreation and interaction).
So, for the entire period of World Expo 2010, the Romanian Pavilion will host various events, the most important activities being:
- cultural events (music, movies projections, dance, theatre, traditions);
- showrooms of art, design, multimedia events;
- conferences and seminars dedicated to the development of the economic, scientific, tourist exchanges.
Greenopolis is designed to contain all the technical elements needed: evacuating ways separated of the access ways, rest-rooms, access for disabled, systems of protection against fire, first aid service.
More photo >>> Romania pavilion (PDF)
Source: www.mae.ro